Academy Member: Dennis Davis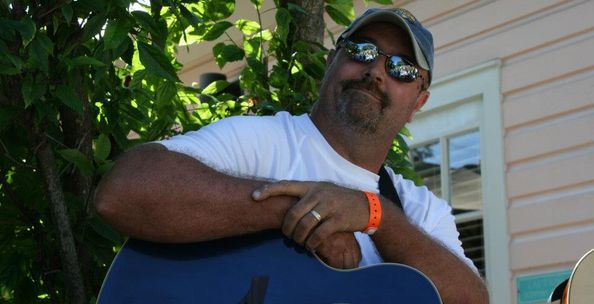 I've been playing guitar and singing as long as I can remember, usually just for my own benefit and enjoyment. Every once in a while I'd break out with a song or two at a talent show or a party and I found out that the guitar player singer guy quickly became pretty popular… well… I'm not gonna lie, the attention has always been fun.
Grew up listening to all kinds of music… country, rock.. folk, everything… My folks took me to see Elvis when I was about 12…The first concert I ever went to unsupervised was an acoustic deal with Harry Chapin, Gordon Lightfoot, John Denver and James Taylor… no band, just those guys backing each other up. When I started playing the guitar… that was the stuff I was playing. When I got a little older, I was turned onto Jimmy Buffett and started loving the lifestyle! I did the cover band thing for a while, played in smaller groups and lots of solo stuff… so that's sort of how things started and how I got to this point…
OK… so…. I grew up… spent a year living and backpacking through Europe… had a few adventures…came home and went to college… had a few adventures…spent some time in the military… a few more adventures…jumped out of airplanes…spent about a year off and on in Grenada (nice way to mix combat with a Caribbean vacation)… went and lived in Europe again for a few more years… some more adventures….and finally settled in Texas (wasn't born here but I got here as fast as I could)….. I found a whole new world of music.. got turned on to a whole bunch of great artists, and reintroduced to some others… you can get whatever you want down here and I think that's great!… I still love to listen to and play all different kinds of music… I've sort of branded myself as "Coastal Country"… it's undeniably Country with a coastal twist… I'm playing all kinds of music, but the beach is always gonna be close at hand… I love being a part of the Texas music community!
I have been thankfully adopted into the world of TropRock music… I have made so many friends and been to many cool places because of that… Everybody always asks what exactly is "TropRock" music?… well, I think it probably means something different for everybody… and everybody has a different style…. For me, it's not always about margaritas, tropical places and palm trees (although those are absolutely some of my favorite things!) there's more to it… Its music that makes you feel good… it's a feeling… it's friends and bonfire singing and dancing and parties… it's kicking back and taking it easy… it reminds you of good times and summer days and walking on the beach on a summer night… beach music is different anywhere you go so you can't just say that TropRock is one type of music… bottom line is it just makes you feel good!
My family and friends, moments we share and different places that I've been are my biggest inspirations… I love summer days, palm trees, the water, the beach and the coast… and everything that goes along with that stuff…so those are feelings that usually find a way to my songs. I try to write positive… I like songs that make you feel good… life is just too short not to try to enjoy it.
So… that's the story…for now…thanks for listening… I hope you like the music.
Find out more at https://www.dennisdavismusic.org/