Saturday, August 18, 2018 at 6 PM – 11:30 PM https://www.facebook.com/events/205805633383968/ www.tallahasseeparrotheadclub.com The 14th Annual Parrothead Phrenzy is a concert benefit for Alzheimer's Project, Inc. Dance to Florida's Premier Jimmy Buffett Tribute Band, Jason Webb and the Caribbean Chillers, enjoy the Buffett Buffet, win at the Wino and I Know Wine Toss and find great…
Read More
TRMA Trop Rock Music Awards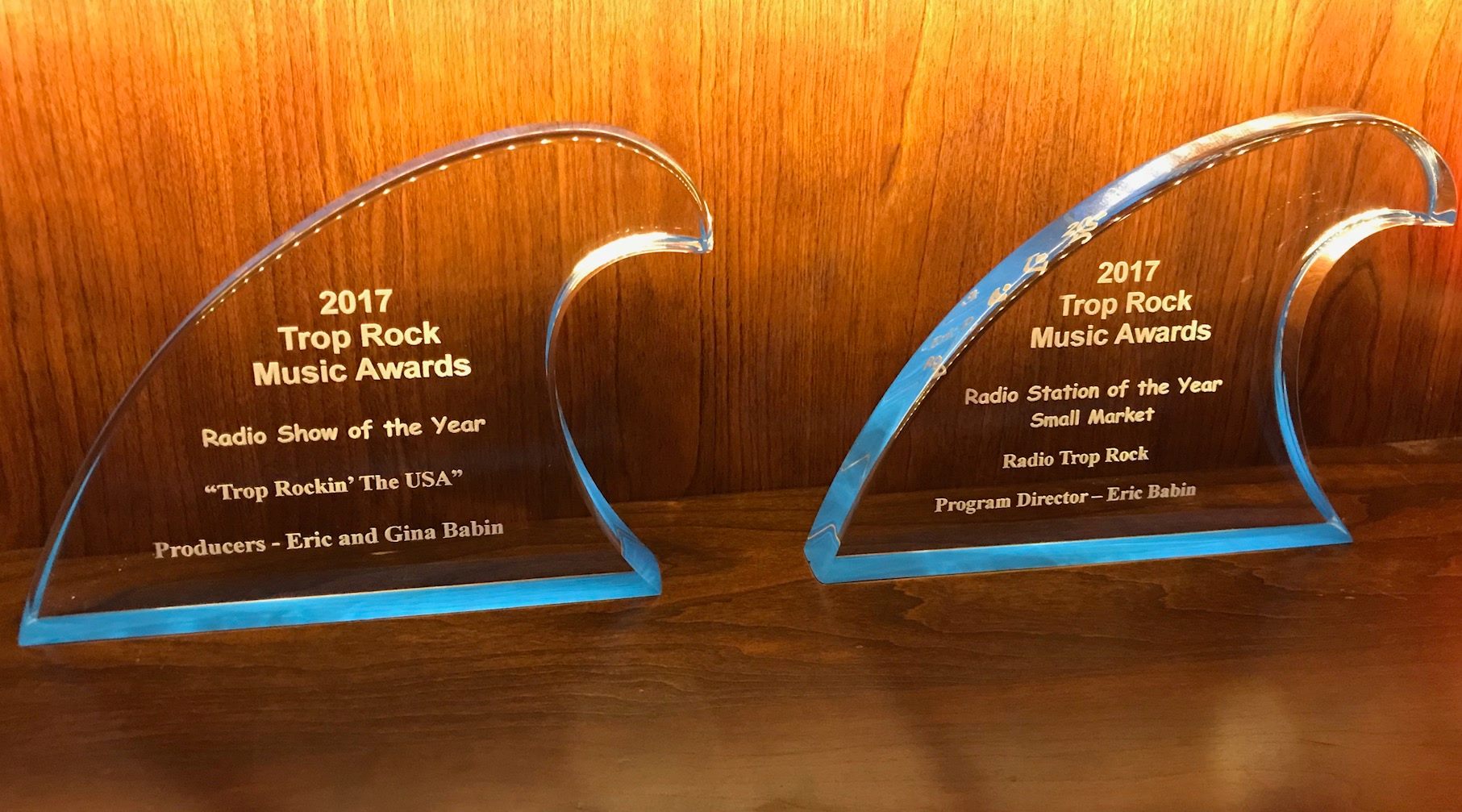 Why the awards are important...
The Annual TRMA Trop Rock Awards provide an opportunity for our Association and it's members to recognize the outstanding artists, songwriters, fans, radio stations, venues and others who make this genre so great.
The 11th Annual TRMA awards will be held Friday, November 2nd in Key West, Florida. There will be a total of nineteen awards in 2018. If you want to participate in the awards voting, sponsor our awards show, or volunteer, please click below. The nomination round runs July 2 through August 15th and the final ballot voting will be September 1 - 30. If you are NOT a member of the TRMA, you can still join by September 30th and vote in the 2018 awards. You will receive an email confirmation with a link to the ballot.
2018
2017
2016
2015
2014
2013
2012
2011
2010
2009
2008
11th Annual TRMA Final Ballot Preview
This is the final ballot preview.  Members have been emailed a link to the ballet to vote. The nominees listed are the independent trop rock artists who received the most votes in the previous nomination round. (See trop rock definition below). Individuals can still join the organization during this time and WILL get to vote. Only one vote allowed per TRMA member. The final ballot voting will be September 1 - 30th, 2018. The 11th Annual TRMA awards will be held Friday, November 2nd in Key West, Florida.
Definition of Trop Rock Music: Tropical Rock (or Trop Rock) is a genre of popular music that incorporates elements of Rock and Roll, Country, Caribbean, Reggae or other musical genres to create a laid-back or "escapist" state of mind. Trop Rock may create its tropical or "island vibe" either with tropical or island-like instrumentation and production, or with beach, tropical or escapist lyrical themes, or both.
1. Male Vocalist
2. Female Vocalist
3. Duo/Trio
4. Band
This award recongnizes bands with 4 or more members and primarily perform in this configuration.
5. Entertainer of the Year
This award recognizes the best LIVE performance by an independent Trop Rock solo, duo, trio or band.
6. Album
Nominees in this category are TRMA Academy members and have released an independent CD of new original Trop Rock music in 2017. Compilation CD's do not qualify.
7. Song
This category is open to ALL Trop Rock artists who released an original Trop Rock song in 2017. They do NOT have to be Academy members, and the song does not have to be part of a qualifying album. The song qualifies if it was only released as a "single".
8. Horizon Award
This award recognizes a Trop Rock solo, duo, trio, or band who shows the most promise for contributing to the Trop Rock genre through performance, songwriting and recording of their original music.
Previous winners are not eligible.
9. Musician
This award recognizes outstanding musicianship, and is intended to recognize band members, not individual artists or band leaders, but the other musicians in the band or musicians who play with various artists.
John Beck - Pans
JD Edge - Fiddle
Melanie Howe - Percussion
Mark Mireles - Pans
John Patti - Pans
Emily Randle - Fiddle
10. Songwriter The final ballot for Songwriter of the Year will be voted on by the TRMA Academy members and Board of Directors.The nominees on the final ballot based on the nomination round voting are: Donny Brewer, Jack Mosley, Jesse Rice, Thom Shepherd, and Cory Young.
11. Radio Station

12. Radio Program - Live
"Big Burrito Radio Show" - Marty Kuklinski & Dan Mueller
"Trop Rockin' The USA" - Eric & Gina Babin
Weekdays with Wilson - Lyle Wilson
"The Weekly Trop 40" - Harry Teaford and Mayor Gonzo Mays
13. Radio Program - Prerecorded

"Artist Appreciation w/Millie Marie Taylor" - Millie Marie Taylor
"House Concert Spotlight w/Diana Christ" - Diana Christ
"New Music Mixer" - Eric "Misa Nevermind" Przybylski
"Trop Rock Takeover" - David Redman
14. Live Music Venue
This award recognizes the owners of a for-profit live music venue that features Trop Rock artists.
Hurricane Charley's - Punta Gorda, FL

Nav-A-Gator Bar & Grille - Arcadia, FL

Smokin' Tuna Saloon - Key West, FL

T-Bone Tom's - Kemah, TX

Whiskey Joe's - Tampa, FL
15. House Concert Venue - Small
This award recognizes the host/hostess of a non-profit concert-style shows featuring Trop Rock artists. It is broken into small & large venues.
Diablo Creek - Christ

Isla Bella - Guerrero

MarGEERitaville - Geer

Port of Indecision - Mueller
16. House Concert Venue - Large
Casa Tortooga - Disston

The Habitat - Settlemyer

The Yard - Leverett
17. Event of the Year - Small
This award recognizes events/festivals who feature multiple Trop Rock artists. Meeting of the Minds is not considered in this category because it is a National Convention. It is divided into small and large based on registered attendees at the 2017 event, and an award will be given for each category.
Laid Back Attack - Olympia, WA

Lone Star Luau - Marble Falls, TX

Phins to the West - Mesquite, NV

Summer Solstice - Branson, MO
18. Event of the Year - Large

Music on the Bay - Tampa, FL

Pardi Gras - New Orleans, LA
19. Fan of the Year
This award recognizes a Trop Rock "fan" for their support and promotion of Trop Rock music. It is meant for an individual and not a group. Previous winners are NOT eligible.
Bill & Trina Geer

Fred & Sara Guerrero

Norm & Cheryl Kayser

Tom Klinker & Nancy Martin

Fred Wunder
All Paths Lead to Trop Rock!
Check Out These Opportunities to Listen to Trop Rock