Tropical Rock (or Trop Rock) is a genre of popular music that incorporates elements of Rock and Roll, Country, Caribbean, Reggae or other musical genres to create a laid-back or escapist state of mind.

Trop Rock may create its tropical or "island vibe" either with tropical or island-like instrumentation and production, or with beach, tropical or "escapist" lyrical themes, or both.
Be a Member and Vote for your Favorite Artists!
Contratulations to our TRMA Winners!
Congratulations to the 11th Annual TRMA (2018) Trop Rock Music Awards winners. We had a fabulous ballot of nominees and the TRMA wishes to thank all of you for what you do for the Trop Rock world.
11th Annual TRMA Winners
1. Male Vocalist
2. Female Vocalist
3. Duo/Trio
4. Band
This award recongnizes bands with 4 or more members and primarily perform in this configuration.
5. Entertainer of the Year
This award recognizes the best LIVE performance by an independent Trop Rock solo, duo, trio or band.
6. Album
Nominees in this category are TRMA Academy members and have released an independent CD of new original Trop Rock music in 2017. Compilation CD's do not qualify.
Song
This category is open to ALL Trop Rock artists who released an original Trop Rock song in 2017. They do NOT have to be Academy members, and the song does not have to be part of a qualifying album. The song qualifies if it was only released as a "single".
8. Horizon Award
This award recognizes a Trop Rock solo, duo, trio, or band who shows the most promise for contributing to the Trop Rock genre through performance, songwriting and recording of their original music.
Previous winners are not eligible.
9. Musician
This award recognizes outstanding musicianship, and is intended to recognize band members, not individual artists or band leaders, but the other musicians in the band or musicians who play with various artists.
Melanie Howe - Percussion
10. Songwriter The final ballot for Songwriter of the Year will be voted on by the TRMA Academy members and Board of Directors.The nominees on the final ballot based on the nomination round voting are: Donny Brewer, Jack Mosley, Jesse Rice, Thom Shepherd, and Cory Young.
11. Radio Station

12. Radio Program - Live
"Trop Rockin' The USA" - Eric & Gina Babin
13. Radio Program - Prerecorded

"Trop Rock Takeover" - David Redman
14. Live Music Venue
This award recognizes the owners of a for-profit live music venue that features Trop Rock artists.
15. House Concert Venue - Small
This award recognizes the host/hostess of a non-profit concert-style shows featuring Trop Rock artists. It is broken into small & large venues.
16. House Concert Venue - Large
17. Event of the Year - Small
This award recognizes events/festivals who feature multiple Trop Rock artists. Meeting of the Minds is not considered in this category because it is a National Convention. It is divided into small and large based on registered attendees at the 2017 event, and an award will be given for each category.
Laid Back Attack - Olympia, WA
18. Event of the Year - Large

Music on the Bay - Tampa, FL
19. Fan of the Year
This award recognizes a Trop Rock "fan" for their support and promotion of Trop Rock music. It is meant for an individual and not a group. Previous winners are NOT eligible.
History of the "Trop Rock" Genre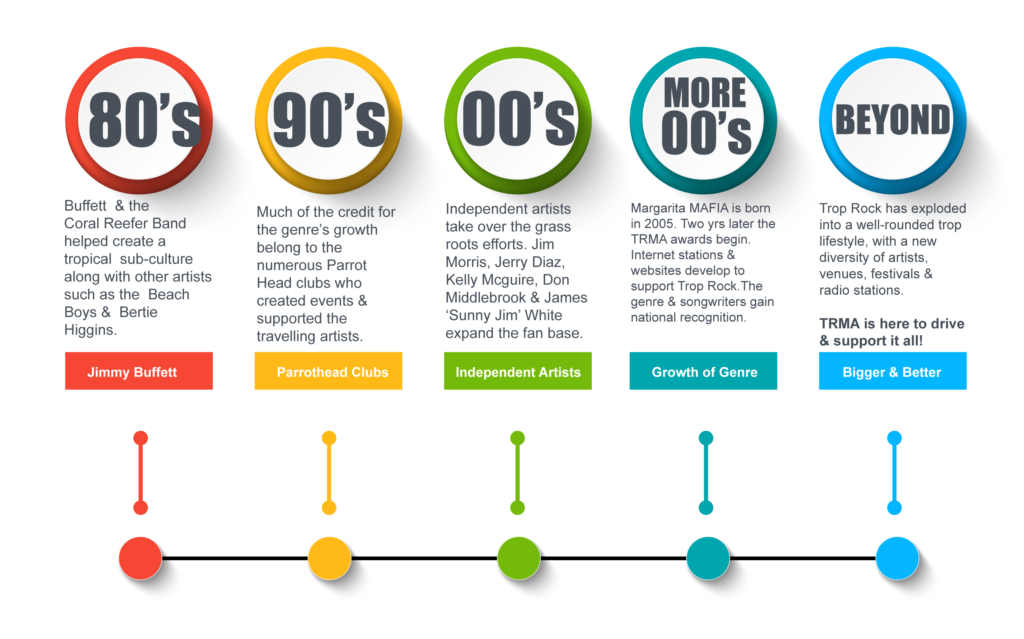 The Trop Rock Music Association (TRMA) is a membership-based organization whose mission is to provide a venue for the promotion of Trop Rock music, promote public awareness, and increase the viability of the genre.
Dedicated to building and promoting the Trop Rock genre and the individuals who participate in that industry, the Trop Rock Music Association works closely with artists, radio stations, venues, festivals, retailers, media and others to help organize and build the infrastructure necessary for Trop Rock music to achieve success and recognition internationally.
The TRMA began in 2005 as the Margarita M.A.F.I.A. (music, artists, fans in alliance) because founders Tom & Michelle Becker, as well as many others, wanted a united voice regarding Trop Rock music. Two years later an annual awards show was created (now known as the TRMA Music Awards) to recognize the artists, songwriters, musicians, radio stations, fans and others in the genre. In 2012 the Margarita M.A.F.I.A. changed its name to the Trop Rock Music Association to better describe its overall purpose.
Due to the significant growth of the genre, in 2018 the organization decided to further expand by creating a new Board of Directors, logo, website, mission statement, and establishment as a 501(c)6 nonprofit organization.
Where's the Trop Rock Music?
The heart of Trop Rock is its events! Find what events, festivals, house concerts and other fun stuff is coming up.
Find some of our favorite internet radio stations and listen in to hear our TRMA Academy members, award winners, and new up and coming Trop Rock artists.
Since 2007, the place to be in November is Key West at Meeting of the Minds and the TRMA Awards. Our goal is to recognize and promote the most awesome Trop Rock musicians, songwriters, radio stations, fans, live venues and others instrumental in the promotion of the Trop Rock genre. Become a member so you can support and vote for the best of the best!
Find house concert venues, yearly festivals, destination music, Parrot Head groups, trop rock businesses and online groups. Everything for your Trop Rock lifestyle!