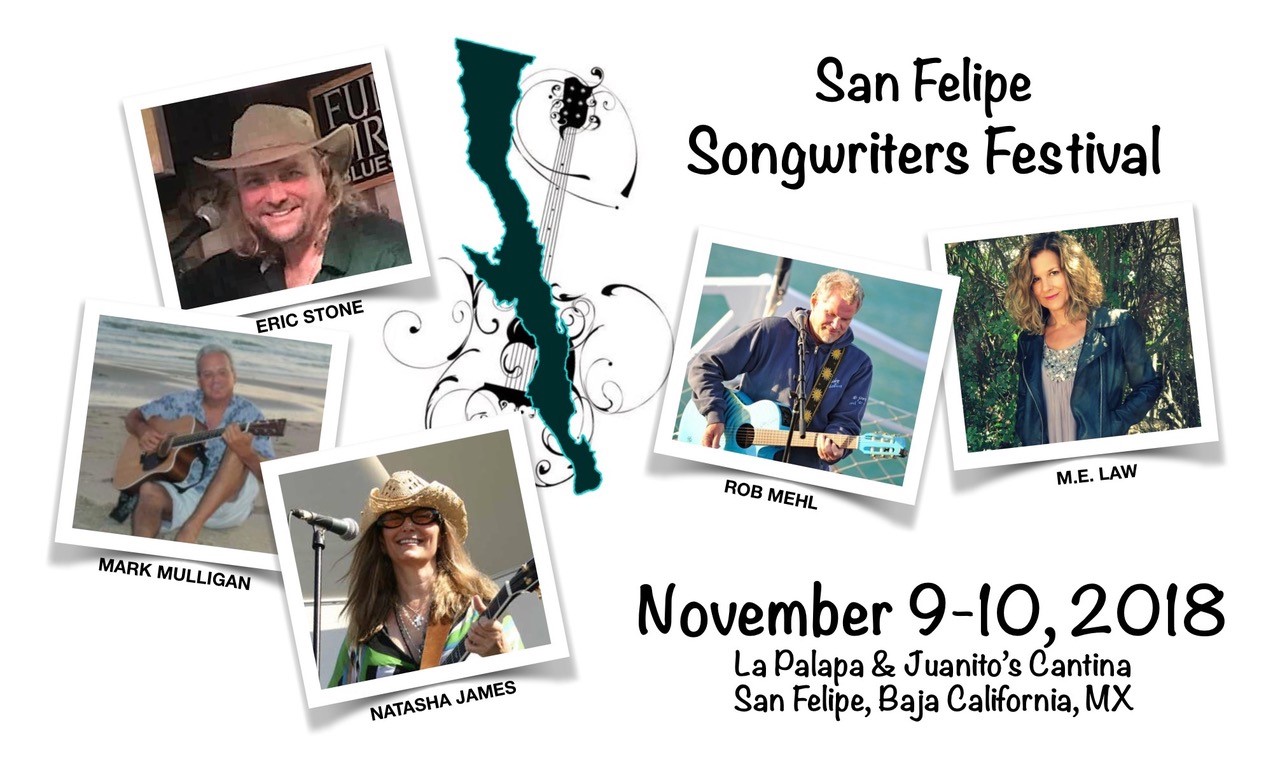 Sponsor: San Felipe Music Festival
www.sanfelipesongwritersfestival.com
November 9-10, 2018
Our 1st annual San Felipe Songwriters Festival is co-hosted by Cesar Quirarte, El Dorado's event planner and manager of the Palapa Bar & Grill and the award winning Pavillion restaurant, at Las Caras de Mexico Golf Resort, located within La Ventana Del Mar on the beautiful Sea of Cortez, just 7 miles north of San Felipe, Baja California, Mexico.  You'll meet the talented songwriters, listen up close and escape to a life inspired by the sea, good times and that laid-back and loving life attitude that just never gets old. You'll also enjoy authentic local Mexican cuisine and the Baja sun.
Please join us November 9th & 10th for an exciting and entertaining weekend in San Felipe you will never forget.
FRIDAY DAY 1 – La Palapa Bar & Grill
Natasha James, two time Grammy Nominee and international touring artist… comfortable in acoustic Americana styles, minor key blues, story songs, rockers and, surprisingly, even Latin jazz. This is a mature singer-songwriter at the peak of her powers.
Tadj Galleran, multi-talented songwriter, actor, harmonica virtuoso and former keyboard/vocalist at Shoe Suede Blues with Peter Tork.
SATURDAY DAY 2 – Juanito's Cantina
Mark Mulligan regularly performs from coast to coast in the U.S., Belize, Costa Rica, and Canada. His tropically flavored songs will take you south of the border to a world of blue skies, sandy beaches, sailboats, and sunshine.
Eric Sone has performed in almost every state in the US and 13 countries. He's a regular at Margaritaville, Universal Studios and Bahama Breeze and still manages a busy Summer Tour and Festival Circuit.
Rob Mehl tours the U.S. annually, plays guitar and ukulele. His mellow, folk-style beach ballads are inspired by his love of great literature and his time growing up in Hawaii.
M.E. Law, Canadian singer songwriter and multi-instrumentalist, known for her folky, bluesy, witty, powerful lyrics, and unique, amazing voice and range. Pop, ballad, soul, romance, tragedy, comedy – its all there.