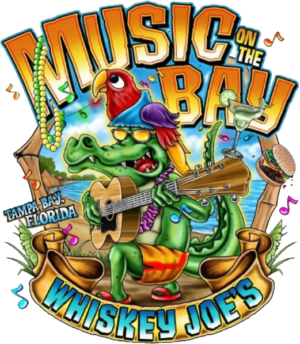 Sponsor: Music on the Bay
Music on the Bay
Where: Whiskey Joe's Barefoot Beach Bar, Tampa, Florida
Date: Feb 28 – March 3, 2019
Organizers: Tampa Bay PHC
musiconthebay.org
This is a one of a kind Trop-Rock festival! The event will start Thursday and the music will keep playing until the last note ending just after sunset on Sunday.
2013, 2014, 2015, 2016
Trop Rock Music Association "Event of The Year" !!!
If you can make it Wednesday, join the Tampa Bay Parrot Head Club on-site at Whiskey Joe's for one of our regular club meetings.
This is an ADULT only event. ALL (as in all) attendees must be 21 or older.
We have assembled some of the best Trop Rock musicians on the planet to be a part of this PHenomenal event!
They will perform on two outdoor beach stages at Whiskey Joe's Barefoot Beach, located right on the waters of beautiful Tampa Bay.