Academy Member: Beth Travers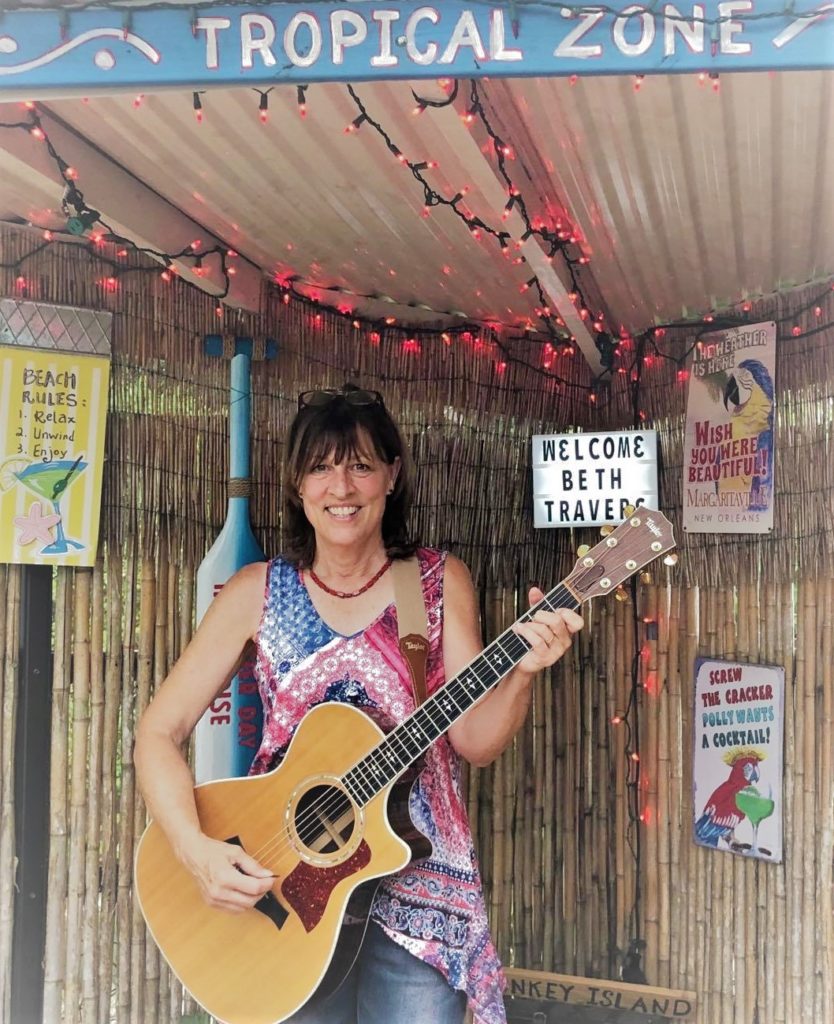 Beth Travers was born to adventurers and sailors—she was sailing Nantucket Sound before she could run—
Her first instrument was a baritone ukelele …She immediately buried it in the sand and stole her mother's guitar…
As a kid on sailing trips, Beth listened to Harry Belafonte and steel drum bands from the West Indies. She started writing songs and never looked back…. Living the Salt Life before the term was coined, she was playing rockin' versions of island music when she discovered Jimmy Buffett and fell head over heels.
Beth moved to Nashville in the 1990's and eventually landed writing at Universal Polygram. She has songs with Danny Mayo, Dickie Lee, Wynn Varble, Gerald Smith—and a plethora of small cuts—but never a big score. She toured with the one and only Ray Stevens, and played with artists like Razzy Baily, Percy Sledge, Johnny Russell, John R Cash… and way too many others.
As a Nashville session musician/singer, Beth rubbed shoulders with some of the best musicians in the business, like Doug Jernigan, Johnny Neel, Buddy Spicher, Buddy Skipper, Dave Roe, Jimmy Capps, Tommy White, Vassar Clements, Nigel Olson, GiGi Gonaway, Burt Burton, Dennis Soley, Fred Newell, Johnny Highland, John Hughey & Eugene Moles while learning the art of recording.
Beth opted out of the fulltime Nashville music business grind for a few years—joining the American Red Cross—teaching first responder skills and working in "Service to the Armed Forces" where she lived at overseas military installations serving those who put their lives on the line for our country. On her return, it gave her a new perspective on music. Now Beth is much less likely to spend her energy as a sideman, though she does play bass for Trop Rock's Jack Mosley Band.
Her smooth sultry voice & wacky sense of humor—when combined with her fine songwriting skills—brings a totally unique entertainment experience when Beth does her thang.
With the Release of her CD, "Late Bloomer" on MFG Records Nashville in 2019, Beth began gaining notoriety in Trop Rock.  Now her new single "Happiness Comes in Waves" is rocking the boat, and "The Tropical Holy Grail" is coming out—scheduled for a late Summer Release.
Beth loves the genre and the incredible artists and fans that make up this Trop Rock family. Wherever you are, she will come play!
"I finally found my tribe", she says, "and I'm proud and honored to be part of the Trop Rock Music Association".
Booking: bethtravers@att.net/ 813-300-6085
Find me: www.facebook.com/wheredolphinslaugh
Website & Schedule: www.bethtravers.com
Photo: Victoria Harris