Academy Member: Bob Durand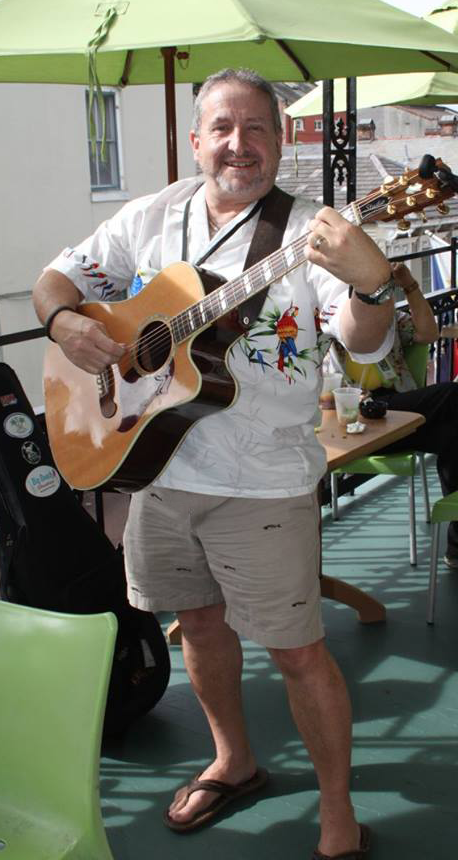 What is a Trop-a-holic?
A trop-a-holic is a margarita drinker with a music problem….
Bob Durand is not only a trop-a-holic – he is a singer/songwriter of songs that you might listen to under a palm tree on a beach with an adult beverage in your hand. A native New Orleanian, he now splits his time between there and lower Alabama. He considers Gulf Shores/Orange Beach to be his second home and the entire stretch of beach bars between his playground!
I first started to spend time in Lower Alabama right after Hurricane Katrina hit the New Orleans area in August of 2005. So many of us needed a respite– a break from months of emotional trauma–and there wasn't a better place than Gulf Shores, Alabama to start to rebuild my psyche. Fast forward about ten years and Lower Alabama still feeds my soul. My newest project, aptly titled "Living in the Real L.A." is about the love my wife and I have for this beautiful area and the wonderful people we have met there. Despite only being a part-time resident of the area, I realize that it disproportionately acts as a muse for my songwriting. I conceived this project as a tribute, a thank you to L.A.. Many of the songs were written there, like Take Me Away, Nothing Lasts Forever and Night Comes Out to Play. The title track was written specifically about it. And hopefully the other songs fit the vibe. The one exception is the last track, Act of Faith. I wouldn't call it Trop Rock, but I would call it the ruminations of a Trop Rocker on life, loss and recovery. It harkens back to a prayer from my Catholic youth, but mostly it is a paean to the indomitable spirits of my fellow New Orleanians. We made it through to The Other Side, but that's a song from another project….