Academy Member: Jerry Diaz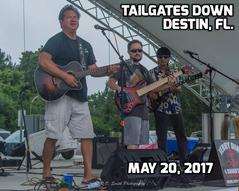 Hailing from the upper Texas Coast, Jerry Diaz & Hanna's Reef perform a high energy mix of original and cover Trop Rock tunes. Having performed from coast to coast many times over, the band has long been recognized for their longevity and professionalism. One of the first artists to write and record songs in the Trop Rock genre, Jerry Diaz and Hanna's Reef has won awards for songwriting, as well as Band of the Year. These days the band performs extensively from Corpus Christi to the Florida Panhandle, with occasional forays into other parts of the country. With 4 CDs of original music featuring many of the most recognizable songs in Trop Rock, the band continues to make new music, with a CD scheduled for release in Fall of 2018. Jerry Diaz & Hanna's Reef has enjoyed a fantastic relationship with the regional distributor of Landshark Beer in our area, and are frequently involved with promotions with them, including merchandise such as neon signs, koozies, beer buckets, cups, & sunglasses with the band's logo.
Trop Rock (and the association) have furthered my career by connecting me to a large group of folks who appreciate the same type of vibe and positive message that comes from this music.
Find out more at http://www.jerrydiaz.com/