Academy Member: Barefoot Reggie Starrett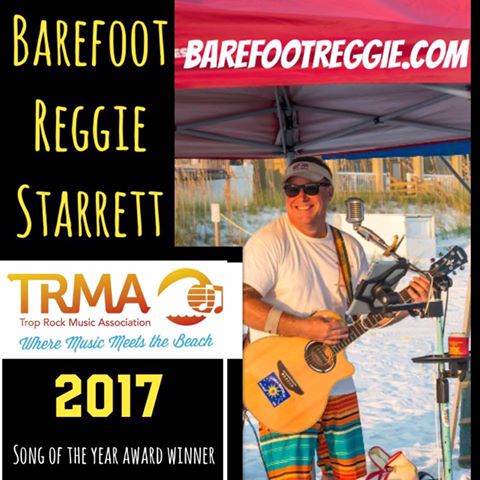 Singer/song writer/ musician, Reggie Starrett is a 2017 TRMA Song of the Year Award winning artist. Reggie is flying solo, or with his band, nationally and internationally. Relentlessly touring. Reggie rounded out 2017 performing over 180 shows all over the US and the Caribbean, and 2018 looks to be even bigger.
Reggie performs an incredibly wide variety of music, from classic rock, to today's hit country, to reggae, to National and Globally acclaimed original songs.
The 2018 "Weekend Ahead" tour kicks off on Bourbon Street in New Orleans January 12th, at the world famous Tropical Isle , and continues through December. Covering the US once again. From the gulf of Mexico to the Great Lakes , South Carolina to California. Be sure to check the tour schedule page for complete and up to the minute, tour dates and information.
Reggie has opened for a diverse group of nationally know artists.
From, The Spin Doctor's , Alan Jackson, Travis Tritt , Vern Gosdin, The Bellamy Brothers, Chaimen of the Board, Chuck Berry, Indigo Girls, Buckwheat Zydeco, Black Crows, The Tams, Fog Hat, The Drifters, Carolina Soul Band, T. Graham Brown , to, Little Texas, Ty Herndon , David Allen Coe and Shenandoah .
Coming from a , wide range musical influences, and a solid back-ground of performing to thousands all over the world., there is truly plenty to enjoy at all his shows.