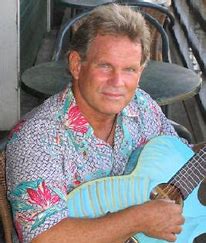 I was born in Oceanside in the 1950's and spent much of my youth bouncing back and forth between Encinitas and Waikiki, where I learned to surf, appreciate the great storytelling of Hawaiian beach boys and play guitar and ukulele. These influences, along with the amazing jazz lp's that were always on our record player at home, have blended together to become the beach-flavored, folk ballads that I write and sing. I've been able to do what I love to do for a lot of years, but I still work hard to bring my audiences the friendly, feel good show I refer to as "splashin' the passion!"
I also perform with Gil Orr, long-time lead guitarist with The Chantays. Gil's best friend in the world is Bob Spickard, founder of The Chantays and the guy who wrote the hit, "Pipeline"! Gil and I add a dimension to each other's solo show that makes for a really fun time!
I've recorded one lp and a whole bunch of CD's … the CD's are available on iTunes and CD Baby and lots of other places. The lp was re-released in Japan as a cd via Creole Stream Music, though a company called "Aloha Got Soul" in Hawaii is interested in re-issuing the lp sometime (hopefully!) this year!
Find out more at http://www.robmehl.com/