Academy Member: Trop Rock Junkies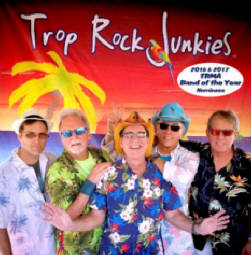 The Trop Rock Junkies have been together for 8 years and have performed their brand of tropical themed rock and trop rock originals from the Midwest to Key West. The band is made up of seasoned professionals that includes Steve Tolliver, 2014 TRMA Songwriter of the Year on Acoustic Guitar and lead vocals, Greg Sabol on bass guitar and vocals, Mike Coleman, lead guitar and vocals, Steve Way, Iowa Rock n Roll Hall of Fame inductee on drums, and John Zych on Keyboards.
They have performed at major Trop Rock festivals including Pardi Gras in New Orleans, Stars Fell On Alabama, Orange Beach, AL, Music On The Bay, Tampa, FL and many others. TRMA nominations have included Horizon Award and Band of the Year.
The TRMA and the Trop Rock fans have given us the opportunity to be known throughout the country. That is something that is very difficult for a band to accomplish in just about any other music genre.
Find out more at http://troprockjunkies.com/ 
For bookings contact Steve Tolliver at 727-729-1549 or email,
troprockjunkies@earthlink.net