Academy Member: Brent Burns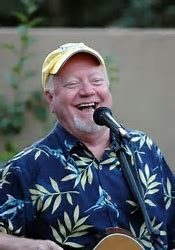 Brent Burns was born in Oklahoma, raised in Arizona and arrived in Gulf Shores, Alabama in 1972. This son of the desert has become the poet laureate of the beach. In 2006, Burns was named "Official Music Ambassador of the Alabama Gulf Coast Convention and Visitors Bureau." In 2008, Burns won three awards in the first ever Trop Rock Music Awards. Burns won "Entertainer of the Year," "CD of the Year (for "Ragtops and Flip Flops")" and a special WAVE award for his charitable work. 2010 brought more Trop Rock Music awards, CD and Song of the Year for "I've Got A Beach in My Backyard" and Songwriter of the Year. In 2011 he added two more awards – Songwriter of the Year and Entertainer of the Year! 2012 brought awards for CD and Song of the Year for "Don't Come Knockin' If The Tiki Hut's Rockin'."
Burns was all over the national scene with his songs and videos, "Pain At The Pump" and "Drill, Drill, Drill." After the videos were posted on You Tube, CNN interviewed Burns and used "Pain At The Pump" in their special "4 Bucks! What's Next? America's Fuel Crisis." When the BP oil spill struck his beloved Gulf Coast in April 2010, Burns took the oil giant to task with his song, "Drill, Drill, Drill." The song and video were featured on CNN's Headline News. Burns first tapped into the American public's anger over rising fuel costs in response to the oil shortages of the 1970s and 80s. Burns wrote the hit song, "Cheaper Crude or No More Food." The song sold 200,000 copies the day it was released and climbed the Billboard Charts after radio commentator Paul Harvey played it three times. It is the first and only song ever played in Harvey's nearly 50 years of radio broadcasting.
Burns' fame continued with appearances on Real People, The Mike Douglas Show, and Hee-Haw. Burns was featured on the front page of the Sunday New York Times Entertainment Se
ction, as well as in articles appearing in the Chicago Tribune, LA Times, Arizona Republic, Newsweek, US Magazine, and Billboard Magazine. Besides his Top 40 hit, "Cheaper Crude or No More Food," Burns has had five other nationally charted records.
A twice wounded, Purple Heart winning combat veteran, Burns also has the distinction of being the first American entertainer to perform for troops overseas after the tragedy of September 11, 2001. Burns' musical career has taken him to Italy, Australia, Mexico and coast to coast in the US.
Burns' philanthropic projects have continued throughout the years. A portion of his CD sales goes to charities including the American Cancer Society, Alabama Gulf Coast Zoo, and Habitat for Humanity. Burns' Habitat tribute song, "Build Them A House," is available for free download on his web site, www.brentburns.com.
Brent's impressive CD sales and songwriting skills continue to make him a highly sought after artist and performer. His schedule includes over 200 dates a year at corporate events, concerts, festivals and clubs.
Find out more at http://www.brentburns.com/