Academy Member: James "Sunny Jim" White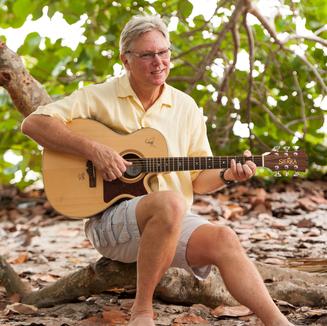 A live performance by James "Sunny Jim" White calls up sea breezes, palm trees. sandy beaches and good tropical vibes. Audiences often end up dancing in conga lines and moving to the up-tempo rhythms of his original music, a blend of influences that range from the Caribbean to California, by way of Texas. Already a gifted guitar player and vocalist when he moved to the Cayman Islands in 1988, James also taught himself to play the steel drum to elevate his solo performances. From 1989 to 2000, as the Artist in Residence at the Hyatt Regency Grand Cayman, James perfected his solo shows by performing for guests from all over the world, many of whom became fans. It was in the Caribbean that he picked up the nickname "Sunny Jim."
As an islander, Sunny Jim soaked up the culture of the West Indies, infusing his songwriting with the influences of Caribbean masters such as Bob Marley, Lord Kitchener, Arrow, Mighty Sparrow and Harry Belafonte, and telling the stories of island life and the people he met there. Born in Texas, he remembers the sounds of Texas swing bands. As a teenager in California he learned to play guitar while listening to the music of the vibrant LA scene in the 60's. Then as a college student in Northern California, he began his professional career on the local music scene. All these musical influences helped him craft the performance style that now defines him. 
Today, he lives in Southwest Florida, performing for events, private parties and house concerts in Florida, and across the U.S. and Caribbean. During the past 20 years Sunny Jim has developed a strong fan base, and he has helped pioneer a niche genre of music call Troprock, or tropical rock because it incorporates a number of styles: Caribbean tunes like Calypso, Reggae; rock n' roll, pop music and Americana. 
James White has published 11 CDs  – 9 studio and 2 live CDs. Postcards from Seven Mile Beach, Life in the Laidback Lane, Sandbar Serenade, Tropical Trader, Sky Sand Water Moon, Tropicool, KISS, Flotsam and Jetsam, Rum Shoes and It's Still Summer Somewhere. Sunny Jim has won 16 Troprock Music Association (TRMA) Wave Awards including; Male Vocalist of the Year, Musician of the Year, Songwriter of the Year, Performer of the Year and the "I Can" award for community service. Three of his CDs, KISS, Flotsam and Jetsam, Rum Shoes have been named CD of the Year by the Association membership.  
While in the Cayman Islands James  wrote an original song for the Paramount movie The Firm, and he appear in the film, playing himself in the movie. He was also interviewed for the recent film The Parrothead Documentary.  James performs at Meeting of the Minds, the annual convention of National Parrothead Clubs Association in Key West. He hosted Six String Music, a sponsored singer/songwriter event in New Orleans from 2001-2016. He is currently the host for Music on the Bay in Tampa, one of the most recognized Parrothead musical events in the country. 
Find out more at https://sunnyjim.com/